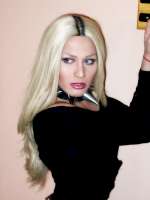 Name: FRANCIS
Age: 26
Personal: Pre-Op Transsexual
Height: 5′ 9″
Weight: 137
Location: Washington, DC
Occupation: Licensed Massage Therapist, Reflexologist
Hobbies: Fetish and BDSM (is that a hobby?)
Likes: Weekends. Is it the weekend yet?
Dislikes: Running out of money
Hi! I'm Francis your transsexual webmistress here at Meet-Transsexuals.com. I'm excited to be part of the site and hope you enjoy yourself here.  I guess I should tell you a little about myself.
Let's see. I'm a bit of a free spirit and non-conformist. I fall asleep during movies but  I can stay up all night reading an interesting book even when I have to work early the next morning. I like drinking in the afternoon and have been known to eat spaghetti for breakfast.
I'm more than a little kinky. I think fetishes and kinks make people interesting. I'm more the dominant type but sometimes I can switch up with the right person. I like sexual exploration and experimentation as long as it's within reason.
All the things I thought would be awesome as a child, I still find to be awesome! I love carnivals, swimming in the nude, watching scary movies with my friends and reading under the covers with a flashlight.
I spend a lot of time wondering how straight people have missionary style sex. How does it work?  Hmmm. Without even a whip?!!
I'm happy to have the opportunity to get to know people online here at meet-transsexuals.com. Why don't you leave a message to let me know if something was helpful or fun, or even if we screwed something up. Just keep it real.  We'll add more to the site soon.
It's nice to have you here. 🙂
xoxoxo
Francis
"Why be normal when you were born to extraordinary."
---
PRIVACY POLICY: We take your privacy seriously. Meet-Transsexuals.com does not place cookies on your computer or collect any personally identifiable information. This is a free site. We are an authorized affiliate of some sites that may appear on this site, however, you are never under obligation to make any purchase to access all the content on this site. Please contact us if you have any questions regarding this privacy policy.
---